Covid-19 Impact Monitoring of Refugees in Chad
The data for Refugees in Chad – the Road Forward was collected before the COVID-19 pandemic. The report's findings are complemented here by preliminary findings from phone surveys conducted during the pandemic (Jan/Feb and March/April of 2021) on a sample of households from the data used in the Road Forward report.
Together, these data sources illustrate the socioeconomic challenges faced by refugees and host communities in Chad prior to and during the pandemic.
Every indicator seems to tell the same story: as difficult as the situation was for refugees before the pandemic, it deteriorated significantly during the pandemic. Refugee welfare losses were as large or greater than losses for nationals. Perhaps the best summary statistic for welfare that we have is the ability to have consistent proper nutrition. Alarmingly, 97% of refugees became severely or moderately food insecure during the pandemic.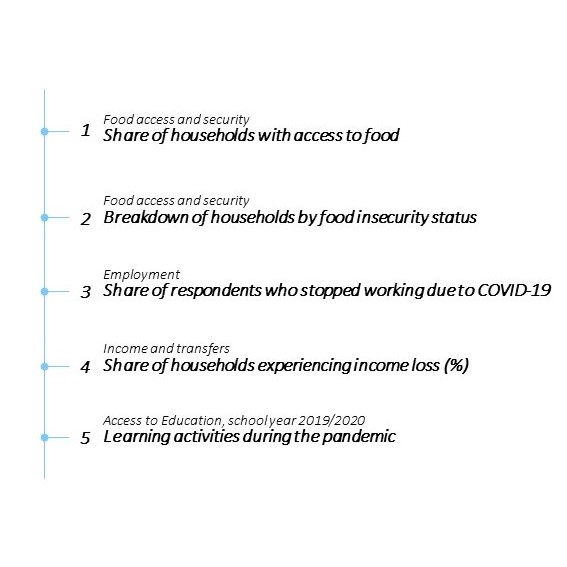 Over the course of the pandemic, only one third of refugee households had pre-pandemic level access to food. The increase in food prices was by far the most common shock experienced by households. The resulting food insecurity affects refugee households more than Chadian households. Restrictions imposed by the government to prevent the spread of the virus forced cuts to imports and domestic production, thereby decreasing food supply and increasing prices and food insecurity. Around 82% of refugee households have experienced severe food insecurity since the beginning of the pandemic compared to 54% of Chadian households.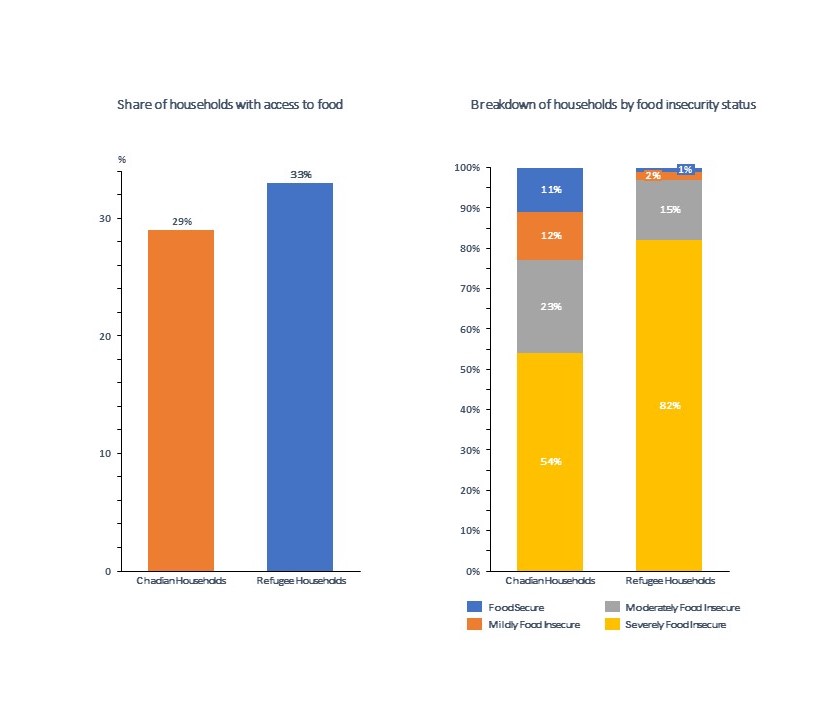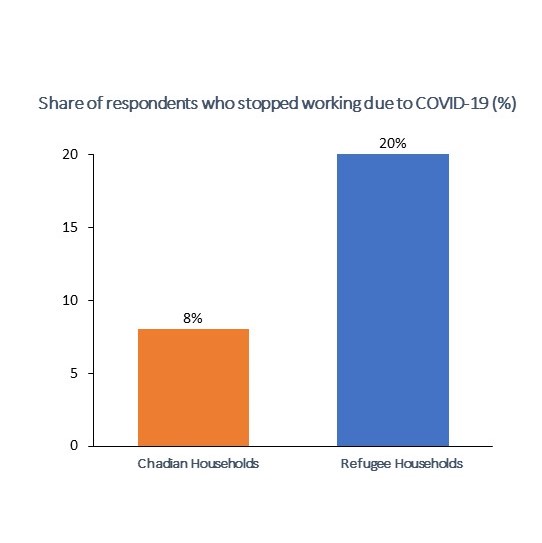 Roughly half of Chadian and refugee households reported working before the pandemic (46 and 51 percent respectively). However, during the pandemic one in five refugees who had been working was forced to stop – a rate more than twice that of Chadian households.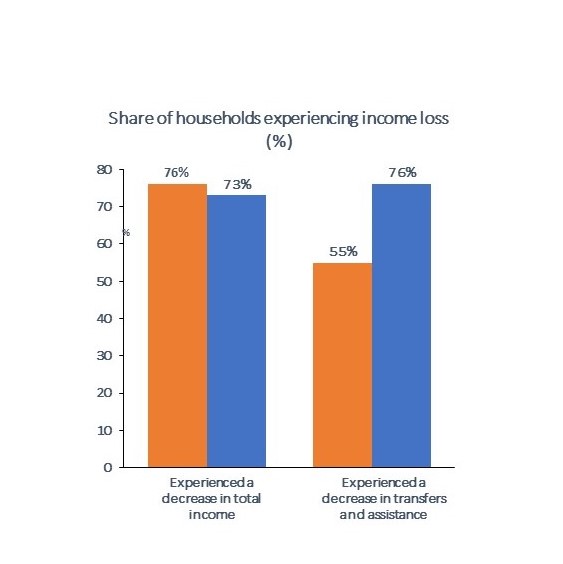 Around three-quarters of both refugee and Chadian households saw their incomes decline since the onset of the pandemic. The severity of the crisis induced by the coronavirus ideally would have been offset by assistance and transfers from these sources. Since the onset of the COVID-19 crisis, however, 76 percent of refugee households and 55 percent of Chadian households indicated that the transfers and assistance they received previously had decreased.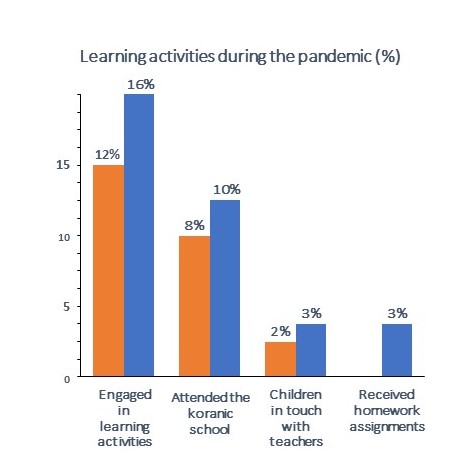 By March 2021, 90% of refugee households and 96% of Chadian households were able to send their previously enrolled children back to school. However, during the pandemic educational engagement plummeted for children from both populations. Very few children had in-person interactions with teachers or were receiving homework assignments. Remote learning activities went almost unused mainly due to lack of knowledge and lack of access to devices or electricity.
Source of data and story information:
Zakaria Baradine, Ahmat Abderahim Abbo, Cherif O. A. Haggar, and ATTOM Ibrahim Abdallah from the national statistical office of Chad, INSEED; Aboudrahyme Savadogo and Sidi M. Sawadogo of the World Bank; and Harriet Mugera, Jeffery Tanner, and Sosso Feindouno from the World Bank-UNHCR Joint Data Center on Forced Displacement. "COVID-19 Impact Monitoring on refugee households in Chad: Results from a High-Frequency Phone Survey – Refugee Round 1: Jan/Feb 2021 and Round 2: March/April 2021. Contacts: Jeffery Tanner – jtanner@worldbank.org and Harriet Mugera –  hmugera@worldbank.org